The WHO Has Nearly Tripled Its Estimate of the Pandemic's Death Toll
The problem is that 85 of the 194 countries surveyed by the WHO technical advisory group that came up with the new estimates don't have good enough death registries for this to be a viable approach. Forty-one of those countries are in sub-Saharan Africa.
For these countries, a team led by Jonathan Wakefield, a statistician at the University of Washington in Seattle, used the data from countries with complete death registries to build another statistical model able to predict total COVID deaths in any month from other measures, including temperature, the percentage of COVID tests returning positive, a rating of the stringency of social distancing and other measures to limit infection, and rates of diabetes and cardiovascular disease — conditions that put people at high risk of dying from COVID.
The Indian health ministry objected strongly to this model in its response to the New York Times article. But the WHO team didn't actually use it to estimate Indian COVID deaths. India falls into an intermediate group of countries that have reasonably good data on total deaths in some regions but not in others. So Wakefield's team used data from 17 Indian states with adequate death registries, applied the standard excess deaths approach used for countries with complete death registries, and then extrapolated from these states to the entire country.
"We only base the predictions of how many people died in India in those two years on Indian data," Wakefield told BuzzFeed News.
Importantly, the WHO's estimates for Indian COVID deaths also align well with other studies, including one published in the journal Science in January by a team led by Prabhat Jha, director of the Centre for Global Health Research at the University of Toronto in Canada. Jha's team estimated COVID deaths from Indian government data and from a national survey of 137,000 people, conducted by a polling company that asked people whether a family member had died from COVID. "India has pretty high cellphone coverage, and they did random digit dialing," Jha told BuzzFeed News.
Jha's team estimated that more than 3.2 million people in India had died from COVID by July 2021, the majority of them during the devastating surge in COVID caused by the Delta coronavirus variant between April and June 2021. That came after the government of Prime Minister Narendra Modi had relaxed COVID controls following an earlier, less severe wave. "The Indian government declared victory and said, 'Oh India's beat this virus,' and complacency set in," Jha said.
This explains the political sensitivity in India about accepting the results from studies that indicate a much higher death toll than the official count. Responding to a question from leaders of the opposition Congress party about Jha's study in February, the Ministry of Health and Family Welfare described it as "speculative" and claimed it "lacks any peer reviewed scientific data" — even though it was published in one of the world's leading peer-reviewed scientific journals.
"It's politics," Jha said of the Indian government's rejection of his study.
According to the WHO, Egypt has proportionately the largest undercount of pandemic deaths, with excess mortality running at 11.6 times the toll attributed to COVID. India, with 9.9 times more excess deaths than its official COVID death count, is in second place. Russia, meanwhile, has reported 3.5 times fewer deaths from COVID than indicated by its excess mortality.
Ariel Karlinsky of the Hebrew University of Jerusalem, another member of the WHO technical advisory group, hopes the agency's "stamp of approval" for excess mortality calculations will encourage nations to come up with more realistic numbers. "Putin doesn't know who I am, but they do know who the WHO is," he told BuzzFeed News.
But rather than moving to correct their COVID death numbers, some governments are apparently now withholding the all-cause mortality data used to calculate excess deaths. Belarus, which seems to be undercounting its COVID deaths by a factor of about 12, has stopped reporting its all-cause mortality data to the UN, Karlinsky said. "The sections on mortality just disappeared."
Right now, the main concern is China, which is experiencing a significant wave of the Omicron coronavirus variant but is reporting suspiciously few deaths. If the wave now hitting Shanghai and other cities matches the pattern seen in Hong Kong since February, Jha fears that a million Chinese people may die.
Some countries have responded to excess mortality studies with greater accountability and transparency. After earlier excess deaths analyses suggested that Peru was underreporting its COVID deaths by a factor of 2.7, the South American nation went through its medical and death records in detail and revised its death toll in May 2021 to a figure closely matching the excess deaths analysis. It is now reporting the highest official per-capita death rate from COVID of any nation. "Peru did what I would have liked every country to do," Karlinsky said.
The WHO's new estimates of total excess pandemic deaths will include people who died from other causes because health systems were overwhelmed, as well as people killed by the coronavirus.
Karlinsky, who is an economist, said he started analyzing excess deaths because he wondered whether "the cure was worse than the disease" — in particular, he feared that lockdowns could cause more deaths than the coronavirus, in part through increases in suicides. But the data told a very different story.
In countries like New Zealand that had strict lockdowns but low levels of COVID, there is no excess deaths signal. There is also no evidence of a global epidemic of suicide during the pandemic — in the US, suicides actually decreased. Only in a few countries like Nicaragua, where people seem to have avoided going to the hospital because they were worried about getting infected, are there signs that deaths from other causes such as heart disease have increased, according to Karlinsky.
"Excess mortality is about equal to COVID mortality," he added.
Original Source: buzzfeednews.com
Soccer Legend Pel? Has Died at Age 82
By age 15, he was already playing professionally for Brazilian team Santos, and at 16, he joined the country's national team. At 17, he became the youngest player to make it to the World Cup final, where he scored two goals — securing Brazil's first title and his place as an international sports icon.
In the almost two decades of his career that followed, he averaged more than one goal per game and holds the Guinness World Record for most career goals. He'd go on to win two more World Cups and rack up other accolades, and fans relished not just the victories, but how he played. He popularized soccer's nickname, "the Beautiful Game," a phrase which became synonymous with his style. In 1961, he was legally named a national treasure in Brazil — a political move aimed at keeping the popular player from being transferred outside of the country. He later revealed that European football clubs did come calling, but he continued to play for Santos and Brazil.
Original Source: buzzfeednews.com
Pope Benedict XVI Has Died at 95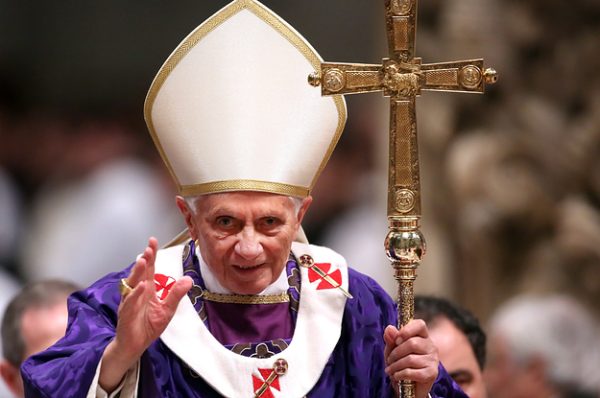 Arguably the most incendiary issue Benedict faced upon becoming pope was the ongoing fallout from the sexual abuse of children by Catholic priests, as well as accusations of a cover-up effort on the part of church administration.
When Benedict became pope in 2005, the Catholic Church was in the midst of a very public reckoning with its history of sex abuse — a crisis about which he was very well informed. In 2001, John Paul II empowered the CDF to centralize all investigations into abuse allegations, removing that power from local dioceses after it became clear that they often failed to take action against predator priests. As the head of the CDF, then-cardinal Ratzinger worked to establish new procedures for reporting and punishing clergy accused of sexual abuse.
As pope, Benedict repeatedly spoke out against the church's legacy of child sex abuse, apologized to victims, and defrocked hundreds of priests who had been found guilty. However, for many, his actions fell short, in part because he failed to make public the Vatican's investigations into abuse accusations — a lack of transparency that enabled dioceses to keep these accusations secret from parishioners and law enforcement authorities.
"In the Church's entire history, no one knew more but did less to protect kids than Benedict," the Survivors Network of Those Abused by Priests (SNAP) said in a statement in 2013, in response to the pope emeritus's public claim that he did not engage in a 'cover-up' of clerical abuse. "As head of CDF, thousands of cases of predator priests crossed his desk. Did he choose to warn families or call police about even one of those dangerous clerics? No. That, by definition, is a cover up."
Rumors of corruption and secret cabals in the Holy See also plagued Benedict's tenure as pope, culminating in the "Vatileaks" scandal in 2012.
On Feb. 10, 2013, Benedict shocked the world by announcing his resignation from the papacy. "After having repeatedly examined my conscience before God, I have come to the certainty that my strengths, due to an advanced age, are no longer suited to an adequate exercise of the Petrine ministry," he said in his official statement.
His decision to retire was later dramatized in the 2019 film The Two Popes, in which Benedict was portrayed by Anthony Hopkins, who was nominated for an Oscar for his performance.
As pope emeritus, Benedict made a conscious effort to stay out of the public eye. He apparently disliked being known by such a lofty title following his resignation and asked others to call him simply "Father Benedict." He did, however, make public appearances at events of theological significance, such as the Canonization Mass of Pope John XIII and Pope John Paul II on April 27, 2014.
On Sept. 4, 2020, at the age of 93 years, four months, and 19 days, Benedict became the longest-living pope in history.
Original Source: buzzfeednews.com
People in China Are Demanding the End of Strict COVID Restrictions After 10 People Died in a Fire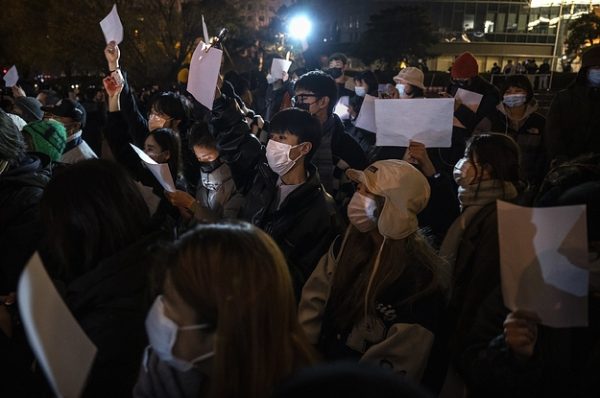 Protests are continuing in China against strict COVID lockdown restrictions after a deadly apartment fire brought some people closer to a breaking point.
Across the country, demonstrators took to the streets — a mass movement that is rare in China — and defied laws designed to curb the spread of COVID-19. Some appeared with sheets of blank white paper, in place of traditional protest signs, as a criticism of the censorship limiting citizens from speaking freely.
After the fire in Xinjiang that left at least 10 people dead, which critics say was due to the stay-at-home measures that resulted in the building's doors being locked, protests intensified Sunday. In major cities like Shanghai, protestors gathered to demand the end of the country's ruling party and the resignation of the president. In clips circulating social media, some demonstrators can be heard repeatedly chanting, "Communist Party step down, Xi Jinping step down."
Original Source: buzzfeednews.com