The UK Was Warned This Counterterrorism Program Was a Disaster — but Rolled It Out Anyway
Tony Thorne was one of the officers on the Apollo project, advising the team on the task of merging large volumes of data. Thorne, a former counterterrorism officer with the Wales Extremism and Counter Terrorism Unit, said he was shocked by what he saw in Scotland. "We left Scotland with a process that was not complete or adequate in any way," he said.
The key issues highlighted during the test run reemerged right away, according to emails and internal memos from 2014 and 2015 reviewed by BuzzFeed News.
Officers described a system that was "crashing routinely" and "timing out after 10 minutes," with glitches so severe that they dramatically increased "the time required to perform a simple task."
Even basic searches caused trouble. One officer had described how he put in a search term and received a result that was too broad. He started sifting through the documents manually to figure out which ones he actually needed — but as he did so, the system crashed. When he logged back in, he typed in the same search terms and found that "the search result was not the same."
Officers using the new systems also reported serious difficulties with the very problem the NCIA was aiming to solve: communicating with other forces and agencies. After a suspicious person entered the UK by plane, an officer reported that they received an important intelligence report from officers at the airport in an unreadable format. Another told a member of the Apollo team that the NCIA's inability to share intelligence with the other regions still using the old system was a critical risk that "may lead to intelligence failure."
The quality of intelligence that did make it onto the system was often poor. In some cases, the NCIA was deluged with irrelevant information; in others, vital intelligence did not show up on the NCIA at all. One officer complained that the system "auto ingests" documents that had nothing to do with terrorism. "This issue was something that was always talked about," the officer wrote, "however now we are live there appears to have been nothing more done about it."
The NCIA was built on the template of an already existing system called the Home Office Large Major Enquiry System, four sources told BuzzFeed News. The problem, one said, is that HOLMES is used to investigate incidents that have already occurred whereas the NCIA is intended to prevent attacks from happening. Another officer told BuzzFeed News that building the NCIA on top of the HOLMES system caused defects that left large amounts of intelligence difficult to find.
Officers echoed these concerns in their emails and official reports. One of the key features borrowed from the HOLMES system was a search tool, much like Google, that was supposed to enable officers to quickly retrieve documents containing a certain word, regardless of where on the record the particular word appeared. If it worked, this would make it far easier to find specific intelligence on potential terrorists from hundreds of thousands of files.
But the search tool wasn't working. Officers found that if they put in the same search term on multiple occasions, they would often get a different result each time. The search tool also wasn't able to scan for dates of birth, making it much harder to pinpoint the right document.
This shortcoming dovetailed with another major problem. Early on, it became clear that many duplicated records would make their way onto the NCIA — since it was compiling data from multiple forces that often possessed the same file on a given individual. One internal report seen by BuzzFeed News acknowledges that this would cause a "knock on" effect that hampered analysts. But higher-ups ultimately decided that "no de-duplication would occur" until the entire UK was using the NCIA.
One Manchester-based officer who later started using the NCIA told BuzzFeed News that duplications made finding what you were looking for like "trying to find a needle in a haystack" — such a struggle that "you could miss vital intelligence leads."
Thorne, the counterterror detective who worked on the NCIA, was growing increasingly concerned. "Unfortunately," he wrote to colleagues in a February 2014 email, "as we are all fully aware the NCIA has struggled to deliver what was promised and has not been fit for purpose."
The rollout of the NCIA pressed ahead.
Article: buzzfeednews.com
Soccer Legend Pel? Has Died at Age 82
By age 15, he was already playing professionally for Brazilian team Santos, and at 16, he joined the country's national team. At 17, he became the youngest player to make it to the World Cup final, where he scored two goals — securing Brazil's first title and his place as an international sports icon.
In the almost two decades of his career that followed, he averaged more than one goal per game and holds the Guinness World Record for most career goals. He'd go on to win two more World Cups and rack up other accolades, and fans relished not just the victories, but how he played. He popularized soccer's nickname, "the Beautiful Game," a phrase which became synonymous with his style. In 1961, he was legally named a national treasure in Brazil — a political move aimed at keeping the popular player from being transferred outside of the country. He later revealed that European football clubs did come calling, but he continued to play for Santos and Brazil.
Original Source: buzzfeednews.com
Pope Benedict XVI Has Died at 95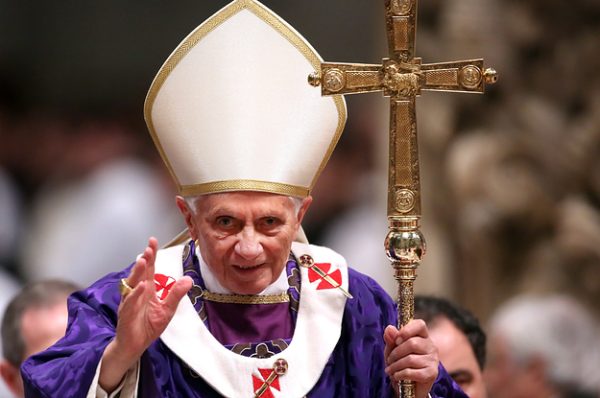 Arguably the most incendiary issue Benedict faced upon becoming pope was the ongoing fallout from the sexual abuse of children by Catholic priests, as well as accusations of a cover-up effort on the part of church administration.
When Benedict became pope in 2005, the Catholic Church was in the midst of a very public reckoning with its history of sex abuse — a crisis about which he was very well informed. In 2001, John Paul II empowered the CDF to centralize all investigations into abuse allegations, removing that power from local dioceses after it became clear that they often failed to take action against predator priests. As the head of the CDF, then-cardinal Ratzinger worked to establish new procedures for reporting and punishing clergy accused of sexual abuse.
As pope, Benedict repeatedly spoke out against the church's legacy of child sex abuse, apologized to victims, and defrocked hundreds of priests who had been found guilty. However, for many, his actions fell short, in part because he failed to make public the Vatican's investigations into abuse accusations — a lack of transparency that enabled dioceses to keep these accusations secret from parishioners and law enforcement authorities.
"In the Church's entire history, no one knew more but did less to protect kids than Benedict," the Survivors Network of Those Abused by Priests (SNAP) said in a statement in 2013, in response to the pope emeritus's public claim that he did not engage in a 'cover-up' of clerical abuse. "As head of CDF, thousands of cases of predator priests crossed his desk. Did he choose to warn families or call police about even one of those dangerous clerics? No. That, by definition, is a cover up."
Rumors of corruption and secret cabals in the Holy See also plagued Benedict's tenure as pope, culminating in the "Vatileaks" scandal in 2012.
On Feb. 10, 2013, Benedict shocked the world by announcing his resignation from the papacy. "After having repeatedly examined my conscience before God, I have come to the certainty that my strengths, due to an advanced age, are no longer suited to an adequate exercise of the Petrine ministry," he said in his official statement.
His decision to retire was later dramatized in the 2019 film The Two Popes, in which Benedict was portrayed by Anthony Hopkins, who was nominated for an Oscar for his performance.
As pope emeritus, Benedict made a conscious effort to stay out of the public eye. He apparently disliked being known by such a lofty title following his resignation and asked others to call him simply "Father Benedict." He did, however, make public appearances at events of theological significance, such as the Canonization Mass of Pope John XIII and Pope John Paul II on April 27, 2014.
On Sept. 4, 2020, at the age of 93 years, four months, and 19 days, Benedict became the longest-living pope in history.
Original Source: buzzfeednews.com
People in China Are Demanding the End of Strict COVID Restrictions After 10 People Died in a Fire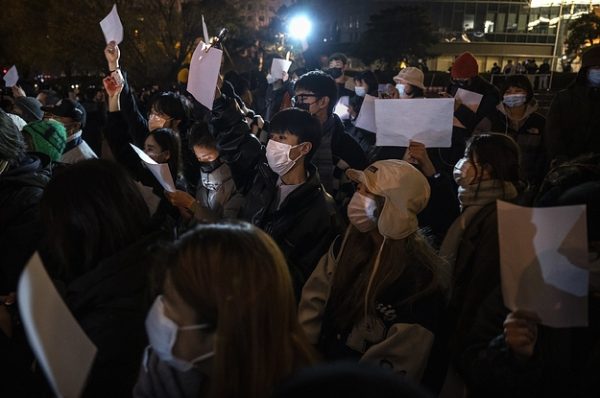 Protests are continuing in China against strict COVID lockdown restrictions after a deadly apartment fire brought some people closer to a breaking point.
Across the country, demonstrators took to the streets — a mass movement that is rare in China — and defied laws designed to curb the spread of COVID-19. Some appeared with sheets of blank white paper, in place of traditional protest signs, as a criticism of the censorship limiting citizens from speaking freely.
After the fire in Xinjiang that left at least 10 people dead, which critics say was due to the stay-at-home measures that resulted in the building's doors being locked, protests intensified Sunday. In major cities like Shanghai, protestors gathered to demand the end of the country's ruling party and the resignation of the president. In clips circulating social media, some demonstrators can be heard repeatedly chanting, "Communist Party step down, Xi Jinping step down."
Original Source: buzzfeednews.com